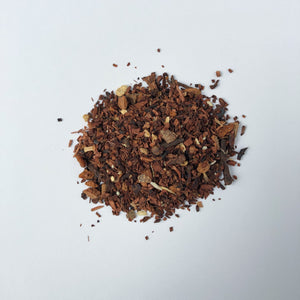 Ingredients:
Organic premium honeybush, organic apple, organic cinnamon, organic clove, organic vanilla, organic coconut.
Directions:
Water: 208°F | Leaves: 2 tsp per 12 ounce cup | Infusion Time: 4 - 6 minutes
A new twist on an old favorite. Chock full of premium apple bits and cinnamon, the aroma is at once familiar and comforting. A zero caffeine beverage for any time of day or year, but especially great during the fall and winter as the days are darker, the air is cooler, and you just want to sit with a calming, flavorful cup of a gorgeous herbal tea.
Read More