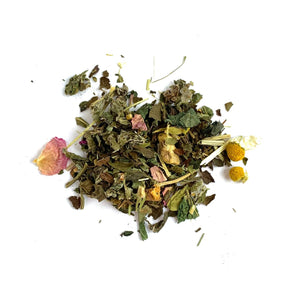 Ingredients:
Organic motherwort, organic nettle leaf, organic sage leaf, organic lemon balm, organic vitex berries, organic mugwort, and organic horsetail.
Directions:
Fill 1 teaspoon of tea in a cloth tea bag or mesh basket and place in your favorite mug. Pour 8 ounces of boiling water over the tea and allow to steep for 3-5 minutes. Experiment with steep time and quantity of tea and find your ideal cup!
Notice:
Persons with allergies to other members of the Asteraceae family chamomile, should exercise caution with Blessed Thistle as allergic cross-reactivity to Asteraceae plants is common. Not for use in persons with kidney disease.
Lightly perfumed aroma with a clean body and an herbaceous flavor with graceful floral compliments. Organic women's balancing tea is a refreshing and delicious full flavored blend ideal for every day. An infusion blended to celebrate wellness, vitality, and all the wonderful women out there.
Read More