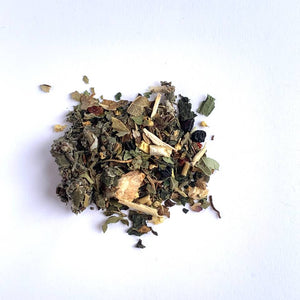 Ingredients:
Organic raspberry leaf, organic nettle leaf, organic lemon balm, organic elder berries, organic Echinacea purpurea herb, organic Echinacea purpurea root, organic elder flowers, organic rosehips, organic lemons, organic ginger root, organic lemon verbena, and organic Oregon grape root.
Directions:
Fill 1 tablespoon of tea in a cloth tea bag or mesh basket and place in your favorite mug. Pour 8 ounces of boiling water over the tea and allow to steep for 3-5 minutes or until desired strength is reached.
Notice:
Not for use in pregnancy except under the supervision of a qualified healthcare practitioner. Raw elder berry fruit contains the component sambunigrin which may cause vomiting and severe diarrhea if ingested. Persons with allergies to other members of the Asteraceae family should exercise caution with Echinacea due to the presence of Echinacea pollen.
*This statement has not been evaluated by the Food and Drug Administration. This product is not intended to diagnose, treat, cure, or prevent any disease. For educational purposes only.
Organic echinacea & elder tea is a wonderfully mild blend that includes raspberry leaf, rosehips, lemon, and a touch of ginger root. This tea has a smooth taste for soothing the senses and is great hot or iced. Elderberries and Echinacea purpurea help to support immune health*. Brew up a cup of this gentle tea any time of the year to reap the benefits!
Aroma and Flavor: The aroma is light with subtle sweet notes. The flavor is equally light and mellow with an earthy aftertaste. Very easy on the palate.
Read More