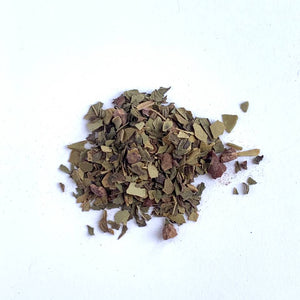 Ingredients:
Organic Amazon Guayusa
Directions:
Water: 208°F | Leaves: 1.5 tsp per 12 ounce cup | Infusion Time: 4 - 7 minutes
Incredibly smooth, with a taste eerily similar to Oolong. This is a nicely energizing tea, similar in effect to mate, but with much different flavor characteristics. More closely aligned in flavor to yaupon, it's holly cousin.
It has no grassy taste and is incredibly smooth. No bitterness and a hint of natural sweetness. A long steep produces an incredible mouth feel, as well.
Guayusa contains 50% more antioxidants than green tea and is full of polyphenols, flavonoids, and saponins. These compounds in guayusa offer a range of holistic health benefits from calming the nervous system to cardiovascular health.
A traditional drink from Ecuador with thousands of years of history and magic.
Read More