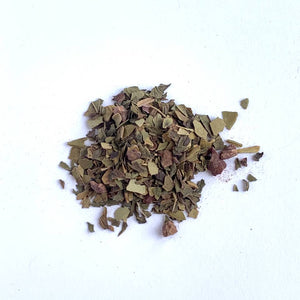 Ingredients:
Organic and fair trade yerba mate, organic peppermint leaf, organic and fair trade roasted cacao nibs, organic roasted carob, organic and fair trade roasted cacao powder, and organic vanilla flavoring
Directions:
Fill 1 teaspoon of tea in a cloth tea bag or mesh basket and place in your favorite mug. Pour 8 ounces of boiling water over the tea and allow to steep for 3-5 minutes or until desired strength is reached.
Our organic mint chocolate mate is a refreshingly smooth blend has just the right amount of kick. Think peppermint patty in a cup! The initial bright minty flavor and aroma transforms into a delightful combination of mate and cacao. A satisfying cup of tea that could easily be considered a dessert.
Read More