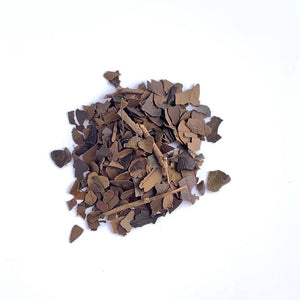 Ingredients:
Organic yaupon tea
Directions:
Fill 1 teaspoon of tea in a cloth tea bag or mesh basket and place in your favorite mug. Pour 8 ounces of boiling water over the tea and allow to steep for 3-5 minutes or until desired strength is reached.
A pleasant aroma that is reminiscent of genmaicha with a black tea twist. The flavor is mild and smooth, with a slight tannic trace nicely emphasized by the roasted notes. Exceptional served both hot and cold with a mild natural sweetness. Organic dark roast yaupon tea is a smooth and delicious brew that is native to the Southern United States. Roasted to perfection, this tasty tea has a smooth and natural sweetness. This bushy holly plant is in the same family as yerba mate and guayusa. Hardy and drought resistant, it is the only caffeinated plant native to North America and grows wild in the Southern United States, stretching from Texas to North Carolina.
Yaupon was used for thousands of years by Native Americans, and this tea has recently reemerged and become widely available. The tannin content is low compared to more familiar teas brewed with Camellia sinensis leaves, so it is difficult to oversteep and does not become bitter easily.
Read More