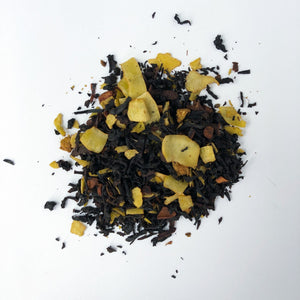 Ingredients:
Organic black tea, organic dried coconut, organic cinnamon, organic ginger, organic cloves and natural flavor.
Directions:
Bring fresh, filtered water to a boil.
Add 2 grams of tea to a infuser, or straight into an 8-oz. mug.
Pour the heated water into the mug.
Steep for 3-5 minutes.
Strain tea leaves, or take out the infuser.
A well-rounded, spicy black tea brew with creamy coconut undertones. Combines robust spices and coconut essence with a base of malty Assam black tea.
Read More