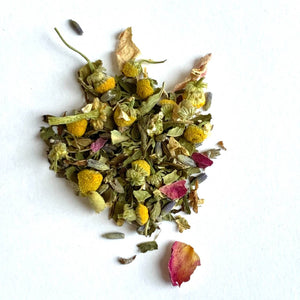 Ingredients:
Organic chamomile flowers, organic peppermint leaf, organic spearmint leaf, organic lavender flowers, organic lemon verbena, and organic rose petals.Gentle and refreshing aroma with a smooth minty, the flavor is crisp and light. Great iced.
Directions:
Fill 1 tablespoon of tea in a cloth tea bag or mesh basket and place in your favorite mug. Pour 8 ounces of boiling water over the tea and allow to steep for 3-5 minutes or until desired strength is reached.
Notice:
Persons with allergies to members of the Asteraceae family should exercise caution with chamomile.
Organic evening repose tea is a beautiful infusion blend combines the robust flavors of flowers and mint. Whether you watch the sun set and the moon rise over the mountains or the city, enjoy the harmony and dance of light across the twilight sky as you savor this tea feeling tranquil and refreshed.
Read More