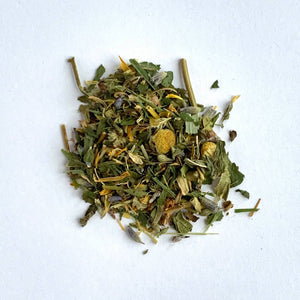 Ingredients:
Organic calendula flowers, organic red clover herb, organic spearmint leaf, organic lavender flowers, organic lemon balm, organic catnip, organic oatstraw, organic lemon peel, organic skullcap, organic chamomile flowers, organic thyme, and organic meadowsweet flowers.
Directions:
Fill 1 tablespoon of tea in a cloth tea bag or mesh basket and place in your favorite mug. Pour 8 ounces of boiling water over the tea and allow to steep for 3-5 minutes or until desired strength is reached.
Notice:
Persons with allergies to members of the Asteraceae family should exercise caution with calendula and chamomile, as allergic cross-reactivity to Asteraceae plants is common. Not for use in therapeutic doses except under the supervision of a qualified healthcare practitioner.
Light and effervescent aroma with floral notes, and a lively and refreshing flavor with a subtle citrus taste.
Organic fairytale tea is a delicious infusion can be enjoyed by fairies of all ages. Delightful and inspiring; this blend is full of flowers and fairy magic, with a little hint of mint. This refreshing complement to story time can be sipped both hot and iced.
Read More