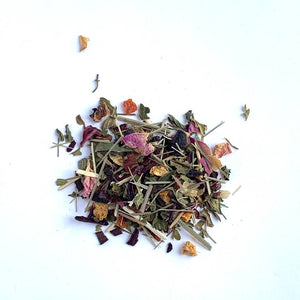 Ingredients:
Organic hibiscus flowers, organic honeybush tea, organic rosehips, organic lemongrass, organic spearmint leaf, organic orange peel, and organic rose petals.
Directions:
Fill 1 tablespoon of tea in a cloth tea bag or mesh basket and place in your favorite mug. Pour 8 ounces of boiling water over the tea and allow to steep for 3-5 minutes or until desired strength is reached.
Notice:
Hibiscus flowers are often intercropped with peanuts. Occasionally fragments of peanut shells are present. Caution for individuals with severe peanut allergies.
The red flowering tropical hibiscus plant gives our organic hibiscus high tea its unique taste and wonderful color. The fruity flavor has the perfect hint of mint making a wonderful cup of tea that can be enjoyed all year round. Try it hot or cold with a slice of lemon.
Read More