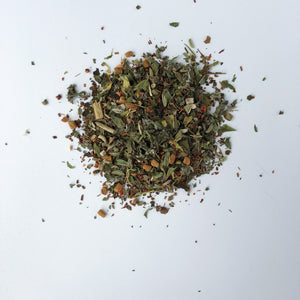 Ingredients:
Organic red rooibos tea, organic raspberry leaf, organic lemon balm, organic fenugreek seed, organic fennel seed, organic alfalfa leaf, organic marshmallow root, organic rosehips, and organic anise seed.
Directions:
Fill 1 tablespoon of tea in a cloth tea bag or mesh basket and place in your favorite mug. Pour 8 ounces of boiling water over the tea and allow to steep for 3-5 minutes or until desired strength is reached.
Notice:
Marshmallow root should be taken with at least 250ml (8oz) of liquid. Orally administered drugs should be taken 1 hour before use or several hours after, as marshmallow root may slow absorption.
Herbaceous aroma with a faintly sweet finish, and a mildly sweet flavor reminiscent of chamomile. During the first precious months of life, tiny human beings need love, comfort, and the very best nutrition available. Our delicious and invigorating organic nurse-me rhyme tea is an infusion formulated for all of you wonderful mommies.
Read More