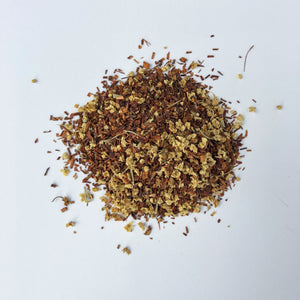 Ingredients:
Organic and fair trade red rooibos tea, organic elder flowers, and organic vanilla flavoring.
Directions:
Fill 1 teaspoon of tea in a cloth tea bag or mesh basket and place in your favorite mug. Pour 8 ounces of boiling water over the tea and allow to steep for 3-5 minutes or until desired strength is reached.
Sweetly perfumed with beautiful floral notes, the bold vanilla flavor pairs nicely with red berry flavors.
Lusciously flavored tea containing all of the benefits of regular rooibos but with a delightful organic vanilla flavor.
Read More