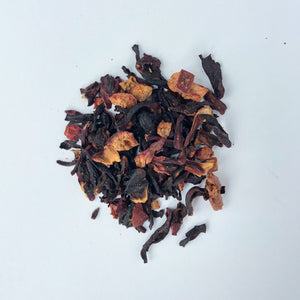 Ingredients:
Organic Hibiscus, Organic Red Chilies, Organic Cranberries, Organic Lemon Oil, Organic Cayenne, Citric Acid.
Directions:
Herbal tea brewing basics: Put 1-3 tsp. of tea in strainer, then place in cup. Add 8 oz. of near-boiling water and steep for 4-6 minutes. Feel free to adjust to your preference.
Notice:
Safety Guideline: Hibiscus may be intercropped with peanuts. May contain peanuts or shell fragments.
This spicy herbal tea blends organic hibiscus and cranberries with a little bit of heat from organic chilies and cayenne.
Read More