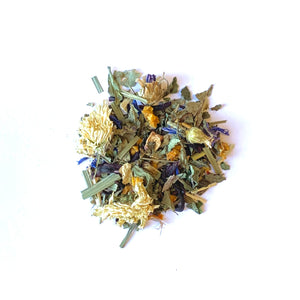 Ingredients: Organic Tulsi (holy basil), organic dandelion leaf, organic lemongrass, organic orange peel, organic hibiscus, chrysanthemum flowers, cornflowers.
Directions: Water Temperature: 200°F Leaf to Water Ratio: 1.5 TBSP per 12 ounces Steep Time: 5 minutes
Tulsi is one of our favorite adaptogenic herbs. For this Global Infusion house blend, we use local organically grown holy basil to bring you a slightly sweet, slightly tart infusion that will calm your nerves and make you smile.
Read More