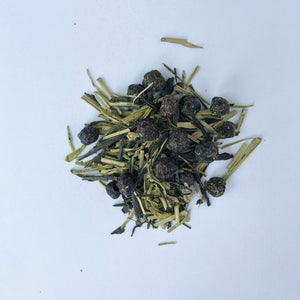 Ingredients:
Organic Green Kukicha Tea, Organic Dried Blueberries, Organic Blueberry Flavor (Water, Organic Alcohol, Organic Flavor, Salt, Natural Flavor).
Directions:
Green tea brewing basics: Put 1 tsp. of tea in strainer, then place in cup. Add 8 oz. of water slightly cooled from a boil and steep for 3-4 minutes. Feel free to adjust to your preference.
Enjoy this wonderful Japanese organic karigane (green kukicha stem) tea combined with nutrient-packed flash freeze-dried organic blueberries. Fresh fruity vegetal flavors deliver a powerful boost of antioxidants and very low caffeine content in a satisfying, healthy tea that also happens to help satisfy sweet-tooth cravings.
Read More