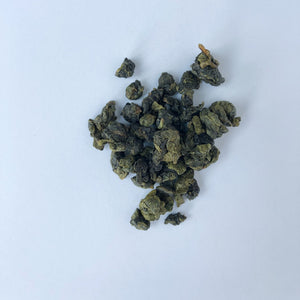 Golden Lily (Jin Xuan 'milk oolong')
Ingredients:
Golden Lily (jin xuan)
Directions:
Water: 200°F | Leaves: 1 teaspoon per 6 ounce cup | Infusion Time: 2 minutes. Second steep, 45 seconds, increasing a few seconds each subsequent steep.
Aromatic and deep flavor. Buttery.

A great, well-executed batch of Golden Lily (jin xuan) from Mr Huang's small, mid-elevation artisan farm in Taiwan.
Sweet and succulent with a nice long floral finish. Creamy and smooth, hence its other name 'Milk Oolong'. This tea is slightly buttery and sweet with a lingering finish and evolves nicely over many steepings.
Read More