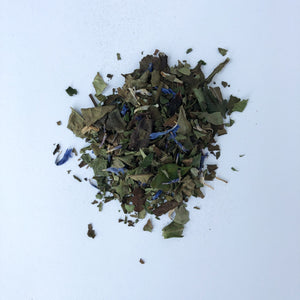 Ingredients:
Organic bai mudan white tea, Organic blueberries, Organic blue cornflowers, Organic botanical blueberry extract
Directions:
Hint: Use more leaves for a stronger, more satisfying taste.
Water: 195°F | Leaves: 1 Tbsp per 12 ounce cup | Infusion Time: 3-4 minutes
Basic Steeping Tips
- Use filtered or spring water, whenever possible
- Don't overboil water
- Remove leaves after recommended time (adjust to taste)
- If you want stronger tea, use more leaves instead of steeping for a longer time
Leaves can be re-steeped 2-3 times resulting in various flavor differences. Don't throw out those leaves until they have given it all up!
This sensational tea is not only chock-full of antioxidants but totally delivers in the taste department. Rather than covering the delicate body of the tea itself, our blend merely enhances and reveals even more of the natural qualities of the tea.
We purchase the org-cert blueberries from Sunset Valley Organics. They have no added sugar, oils, or sulfer. As far as we know, we are the *only* company in the US to use this level of quality in our berries and fruit in tea blends. We always have, we always will.
Indulge, revitalize, relax. Pure goodness from Zhi.
This tea can be resteeped at least twice with superb results!
Read More