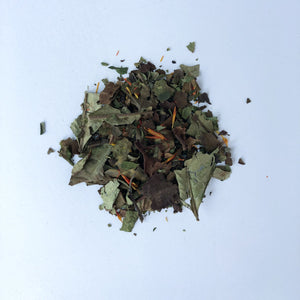 Ingredients:
Organic Indian White Tea, Organic Rosehips, Safflowers, Organic Pomegranate Flavor
Directions:
Hint: Use more leaves for a stronger, more satisfying taste.

Water: 195°F | Leaves: 1 heaping Tbsp per 12 ounce cup | Infusion Time: 3-4 minutes

Basic Steeping Tips
- Use filtered or spring water, whenever possible
- Don't overboil water
- Remove leaves after recommended time (adjust to taste)
- If you want stronger tea, use more leaves instead of steeping for a longer time
Leaves can be resteeped 2-3 times resulting in various flavor differences. Don't throw out those leaves until they have given it all up!
The flavor of pomegranate is the featured artist in this hand-crafted blend of our top-grade Fujian Bai Mudan - that also contains high in Vitamin C rose hips! Nectafarious and rich, the chocolate-y overtones of the tea combine effortlessly with the sweet-tartness of the pomegranate flavor. Great for multiple steepings. Simply lovely.
Read More